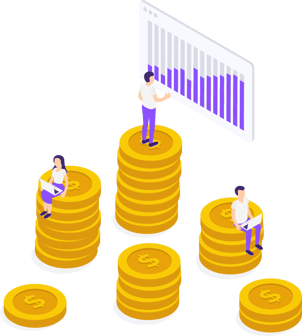 It has become increasingly important for a business to use their cash flow as a strategic financial tool to promote growth. To optimize business cash flow, both assets and liabilities need to be effectively managed.
There are two sides to managing cash in any business: sales and purchases, which translate to a company's assets and liabilities.
Efficient invoicing and the collection of payments for goods and services sold is one half of a commercial business's cash equation. The second half is what the business owes to its suppliers. Both sides of this equation need to be optimized for effective cash management.
Modernization of accounts payable processing and expense transactions is an essential step for a business to optimize and control cash flow. An accounts payable solution needs to automate the capture, approval, reconciliation, supplier payment, compliance, and reporting of these financial transactions.
By effectively managing what you owe to suppliers and vendors, you will realize the benefits of standardization and financial content controls, thereby freeing up the working capital needed to grow your business.
As technology market trends evolve in the financial operations industry, such as robotic process automation, digital assistants, data accessibility and analytics, collaborative relationships between current payables and receivables silos will take hold. This enables strategic financial decisions based on cash flow.
The analysis of both payables and receivables data allows for inventory procurement, business investments, and a reduction of purchasing costs. Senior leaders are looking for ways to leverage cash flow and improve their balance sheet to optimize their cash state and achieve a strategic advantage. With a single cash view, businesses can make shrewd decisions based on readily available data. The result is cash as a tactical tool for their liquidity.

ActiveWorx delivers business process automation solutions to centrally managed, multi-location companies with unprecedented speed and efficiency. Through its highly configurable cloud-based software platform, this financial application brings you the solution to automate business processes faster and at an affordable rate. Team members have secure level access to the applications they need, all of which are configured with intelligent workflow that ensures follow-up, compliance, and proper accountability for every transaction, communication, and document.
ActiveWorx integrates to any ERP system and is powered by IBM's Business Automation technology platform to deliver a state-of-the-art experience. Our proven financial automation and secure, cloud technology infrastructure enables cash flow optimization to provide enterprise-wide business benefits.
There's no doubt that businesses need to automate and optimize their cash flow. With a strong digital partner, you're on your way.