SSOW Orlando - Connecting with Success and Solutions

George Thomas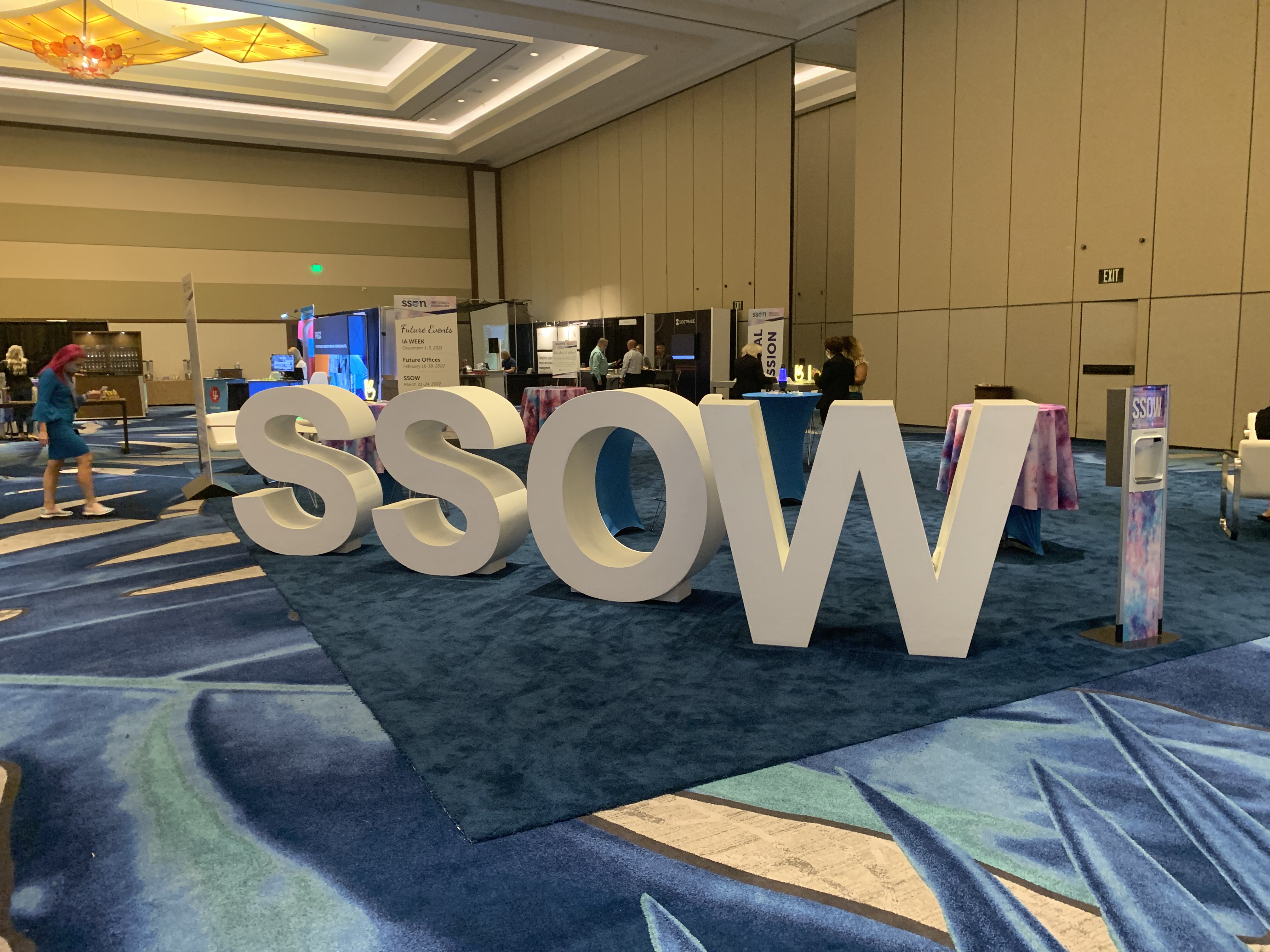 From September 20-23, my colleagues and I had the opportunity to travel to the annual Shared Services and Outsourcing Week (SSOW) event in Orlando, Florida to learn about the latest innovations and trends in shared services, outsourcing, and automation. It was the first in-person event that ActiveWorx attended in a year, so we enjoyed getting face-to-face with fellow financial solutions providers and hearing success stories from global organizations.
4 Main Topics at SSOW
SSON's event explored how the last year has led to a period of innovation, agility, greater transparency, growth of the industry and increased leadership opportunities. Discussions at the SSOW conference focused on the main topics of talent acquisition in a remote work setting, the growth of Robotic Process Automation, movement and retention in the security world, and the need for an easy-to-use interface with cloud capabilities. Here are a few points of interest that my team and I followed closely throughout the week:
1. Talent Acquisition
COVID has caused a myriad of disruptions, the shift to remote work being one of them. This in turn affects the recruiting and hiring process in a variety of ways. Now that location is no longer an issue, companies can acquire the best talent from around the world with larger candidate pools and new ways to connect. This global talent base grows the company's network and reach, thus expanding their market. This also leads to a companywide digital transformation where strong communication and constant interaction become critical to keep everyone engaged and informed. As discussed during the conference, companies must now equip their talent with the necessary technologies, such as computers and tablets, to complete their remote work.
2. Robotic Process Automation
Gartner defines Robotics Process Automation (RPA) as a "combination of user interface (UI) interactions and APIs to integrate and perform data transcription work between different enterprise and productivity applications. RPA automates repetitive human tasks by emulating the same human transaction steps, mainly via orchestrated UI interactions." The conference discussions regarding RPA focused on virtual agents, chat bots, and how to use artificial intelligence in finance.
3. Moving and Retaining in the Security World
Conversations about the constant threat of malware, viruses, hacking, and other damaging entities emphasized the need for security for global companies. There is a current upward trend in security funding as threats continue to proliferate. Shared Service Organizations (SSOs) are especially vulnerable and must work to secure their data and networks.
4. Need for Ease
A remote and distributed workforce has brought to the forefront the need for companies to provide an easy-to-use and adaptable interface. The UI architecture needs to be clean, crisp, easy to navigate, visually appealing, and recognizable. It must also be compatible with iPads, tablets, and mobile devices as more and more users shift away from PCs. A straightforward, easy UI minimizes confusion and questions while streamlining productivity. The easy-to-use interface also allows users to store everything in one location, the cloud. This improves overall security and shareability for the company.
Sessions at SSOW
Throughout the conference, specific companies presented their experiences and solutions around planning and launching SSO's, intelligent automation and solutions around finance and accounting. One of my favorites was by Delta called 360 Degree Controls Technology: How Delta Airlines Protects Against Disruption, which detailed how a cloud based Accounts Payable automation helped Delta shift to remote workers and gain significant benefits from controls that were put in place. Benefits included $500K savings from Duplicate checks, $12M AP audit recovery within the first 2 years, streamlined expense, P-Card and liquor invoice processing. Delta also implemented OFAC check for both their supplier and customer onboarding process.
Another session was hosted by Shivani Bhatia, the Senior Director of Procurement, Global Delivery and Operations at Johnson & Johnson. Her session, titled Choosing the Right Low Code, No Code Automation Partner, was about selecting a vendor who has a specific domain expertise in a particular area. They bring a specific functionality to the table, requiring minimal to no programming or IT needs in order to deploy. This is known as a low code or no code type of deployment and is a significant time and money saver for deploying workflow and payment options.
In general, intelligent automation continues to draw great attention as a strategic move toward business agility.
Final Thoughts
The week in Orlando was educational and generated conversations about the new remote work landscape and the constantly changing digital tools available. It was exciting to return in person to exchange ideas and network. The "new" normal will include hybrid learning and the need to automate processes as remote work is here to stay. I'm looking forward to November, where we'll be exhibiting and hosting a panel at IOFM's APP2P Conference. We hope to see you there!