An Overview of the Advantages of a Digital Mailroom
Is anyone else tired of the piles of paper invoices in your office? It's time to work smarter, not harder.
Extracting information from paper invoices to a usable data format for processing can be quite a challenge. Often it requires a manual data entry effort that is riddled with potential quality control issues. This can lead to costs and time consumption that you, and your team, were not planning for.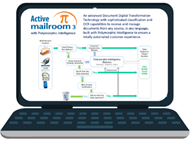 Implementing a digital mailroom helps to increase productivity, decrease errors of handling of invoices and lowers overall costs—just to name a few advantages. ActiveWorx has created a Digital Mailroom Solution that now takes this process to a whole new level.
Now you can truly rely on the technology, and the ActiveWorx team, to automate and secure your business processes. Active Mailroom 3 is an advanced, multi-source input solution that captures paper and digital documents from multiple sources including: email, FTP, multi-functional printers, scanners, web folders and mobile devices.
This application is built with what we like to call, Polymorphic Intelligence™ (PI). It's a technology that combines applied learnings, structured rule definitions, artificial intelligence and human verification exception management within the application to ensure complete and trusted secure processing and removes the process from your back office financial transaction operations.
Imagine! No exception processing and no handling of invoices! Data is captured, extracted and readied into a digital form for computer-based processing for you. Crazy, right?
But How Exactly is this Technology Different?
Well, Active Mailroom 3's Polymorphic Intelligence™ is applied immediately with continuously-polled omnichannel inputs that are captured and extracted for data validation. If an incomplete or poor invoice image is presented, the item is queued for correction by ActiveWorx's mailroom verification team and re-presented with real time learnings applied and available for subsequent presentments. Essentially, the Mailroom 3 Service "learns" from each invoice image presented and can fix the issue without your team's interaction.
As businesses grow, it can be difficult to keep up with manual invoice processing which is why an application like Active Mailroom 3 can help transform business operations.
Like in any field, powerful people can create powerful tools, but those who choose to use them are the ones who truly obtain the power and control.