My takeaways from the APP2P Conference & Expo in Denver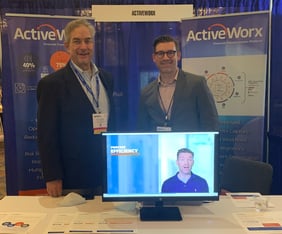 After almost two years, the accounts payable and payments industry got back together in person in Denver last week. It was great to see everyone, although masked, after months of video conferencing.
The best part is automation is no longer considered an option but a requirement for corporate financial processes. And the solutions available to help organizations tackle the challenges they've had to experience in the work-from-home-era were on display.
The attendance was pretty good as live conferences start back up again, and those there were engaged. Many organizations shared their struggles with the lack of automation and its impact over the last 18 months. The sessions and panels were geared to not why to do it, but how and what to look for in your evaluation of the best partner and solution for your business needs.
Many of the questions from the attendees were around solution flexibility, integration with other technologies, and project timing and management. This was refreshing as it points to the education around the benefits and value of business process automation and some historical tools like digital data capture. Conversations have moved to the whole process as people look to define value and ROI from start to finish.
The Hot Topic: B2B Payments
Electronic payments were another hot topic at the IOFM conference. With the process automation comes the next logical step of straight-through processing, and the elimination of manual checks to electronic payment modes is part of that. In addition, the ability to determine who you pay, when you pay, and how you pay puts the power of cash management into the business and helps strengthen its supply chain partners.
FinTech and automation aim to make your accounting and finance processes more efficient, reduce risk, and help you better manage your business. This is done by eliminating manual processes, eliminating manual data entry, reducing processing times, fully integrating all supporting systems and your ERP, and delivering precision payments to your vendors.
With so many options available, clarity on the best fit for your needs is critical. Understanding your business requirements is the baseline for the solution that will best meet those needs. Configurability of that solution will deliver the most benefit. The ability to integrate with your other critical systems will also bring the most value by eliminating any manual effort to move data and allowing a holistic view for management decisions and metrics. None of this is possible without superior data capture capabilities. Old OCR technologies have been replaced with enhanced solutions that allow for more accurate complete data using AI and machine learning to up the accuracy rate to close to 100%.
So, it was great to be back, see colleagues, meet new folks, and discuss the latest business process automation solutions. But it was even better that the world as a whole has embraced the need for this automation to grow, innovate, and compete in a time that has been beyond disruptive. So, we look forward to taking advantage of the need and the technology to innovate and allow professionals from diverse disciplines to bring more value to their organizations.