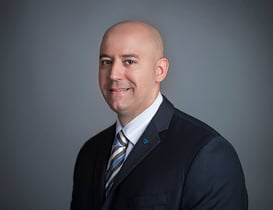 NORRISTOWN, PA, December 7, 2021 – ActiveWorx, a global leader in financial automation, announced the appointment of Joseph Pinzon to lead its global sales teams as chief revenue officer (CRO). Reporting to ActiveWorx CEO Marty Michael, Pinzon will develop and execute sales and business strategies, and optimize the company's sales function to drive new bookings and revenue.
In response to the prolonged shift to remote work and the increased demands for visibility into cash flow and corporate spending, businesses of all sizes are accelerating their digital transformation initiatives. Pinzon will provide expertise and global leadership as ActiveWorx continues to explore new opportunities for its comprehensive invoice-to-pay platform, driven by artificial intelligence and best-in-class workflow methodologies.
In his role as CRO, Pinzon will draw upon his experience as regional vice president of global sales at Konica Minolta Business Solutions USA, where he managed a global team of sales leaders across multiple lines of business, securing agreements for the company's digital transformation solutions with multi-national corporations. Pinzon is also a member of the board of directors at the Strategic Accounts Management Association. He earned a Master of Business Administration (MBA) and a Bachelor of Business Administration (BBA) from Saint Leo University.
"We are thrilled that Joseph has joined ActiveWorx as Chief Revenue Officer," Michael commented. "Joseph's extensive experience in managing large corporate accounts and optimizing complex sales and marketing programs will bring tremendous value to the ActiveWorx team. We look forward to working with Joseph to unlock new opportunities as we build upon ActiveWorx's foundation of success in global financial automation."
"The opportunity at ActiveWorx is extraordinary," Pinzon said. "ActiveWorx has put together a talented team of industry experts and innovators. I'm excited to work with everyone with the goal of invigorating the company's growth and continuing to expand services to our global accounts."
About ActiveWorx
ActiveWorx is a leading provider of financial transformation solutions that help companies optimize mission-critical business functions. The company's comprehensive capture-to-pay platform, ActiveWorx, automates supplier onboarding, invoice processing, and supplier payments, and is supported by fast implementation, flexible deployment, and trusted industry experts. ActiveWorx has successfully transformed business operations for leading clients within banking, insurance, retail, manufacturing, distribution, and logistics. Learn more about ActiveWorx at www.activeworx.com.